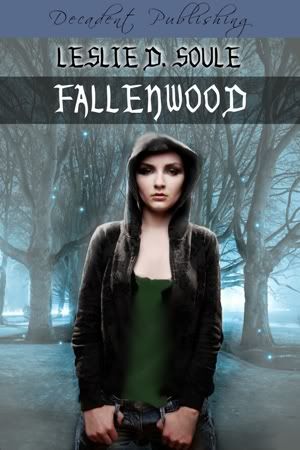 BLURB: Fallenwood—a land where magic is the life force, dragons are sages, and wizards good and evil battle for supremacy.
When 23-year-old Ash is thrust into the middle of Fallenwood's power struggles, she is also forced to face her own inner battles. Life on Earth was hard enough on Ash, who is locked in grief for her stepfather. Now, the fate of Fallenwood rests on her shoulders. She must destroy the Great Crystal—the catalyst for all the land's magic. As the kingdoms prepare for war, Ash must look inside to find the power to save the world, and herself.
EXCERPT:
Ashley looked around and realized that she was standing in a clearing. Her heart raced, and she breathed slowly, trying to calm her frazzled nerves. Glancing around, she wondered how far off the road she'd wandered. She looked up into a sky full of stars. She knew it had been mid-day when she'd started running, and now looking up into the star-filled sky, it had to be late into the night.
A rush of air greeted her the moment she reached this strange part of the forest, before her eyes had temporarily forsaken her. The wind whipped around her from all sides. She backed away from the spot where she stood, because her eyes had yet to adjust to the night, and the wind felt like it was whooshing up from a precipice. Ashley paused to allow her eyes to adjust to the dark. When her sight returned, she realized that she was standing nowhere near a cliff—it was just an unfamiliar area of forest.
Suddenly, a ball of fire hurtled overhead in an arc toward her. Her mind screamed at her to run, but she found that her legs wouldn't move. The flaming orb continued its descent, burrowing itself into the soft ground only inches away from Ashley's boots.


For more information on Leslie or Fallenwood checkout her website:
lesliesoule.com